An evening canal cruise in Amsterdam is one of the most enchanting ways to explore the city. Cruising past iconic UNESCO World Heritage sites and charming architecture lit up at night is an experience you won't want to miss. An Amsterdam evening canal cruise is a magical journey past illuminated landmarks, picturesque bridges and elegant canal houses.
Amsterdam's Canal District is a masterpiece of urban planning and engineering. Cruise through this UNESCO-listed district and marvel at the city's unique canal ring, lined with picturesque bridges and quaint canal houses. The evening atmosphere adds an extra touch of romance and elegance to this already stunning landscape.
In Amsterdam, canal cruising is so popular there are cruises for all types of travellers, from sightseeing cruises to dinner cruises, party cruises and kids cruises. Most canal cruises last between 1 to 1.5 hours and even though the ambience aboard each canal boat might be slightly different, you'll get an overview of the main sights that are beautifully lit, such as the Anne Frank House, Westerkerk, The neo-Gothic Rijksmuseum and vibrant Rembrandtplein.
The Magere Brug, or Skinny Bridge, is adorned with lights over the Amstel River, while along the Herengracht Canal, elegant canal houses and mansions are a fairyland of twinkling lights.
Amsterdam Evening Canal Cruise
11 Best Amsterdam Evening Canal Cruises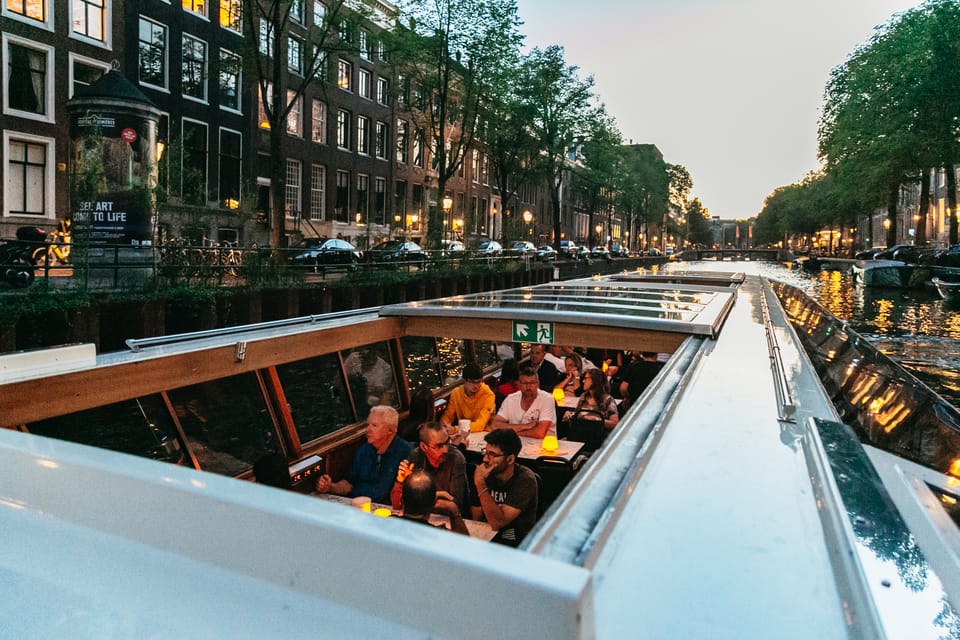 Duration: 1.5 hours
Cancellation: Flexible: Cancel up to one hour in advance for a full refund.
A traditional Amsterdam canal cruise in the evening for an unforgettable experience in the city. Knowledgeable guides provide commentary, sharing captivating stories and historical insights about the landmarks and attractions along the route.
The canal boat is comfortable, and the panoramic windows offer unobstructed views of the illuminated cityscape. Routes vary from cruise to cruise but cover Amsterdam's main canals starting near the Central Station or Damrak and cruising through the Prinsengracht, Herengracht, or Keizersgracht canals.
Pros
Scenic Beauty: The Evening Canal Cruise allows you to enjoy the enchanting ambience of Amsterdam's canals and landmarks illuminated at night.
Historical and Cultural Insights: Knowledgeable guides provide informative commentary, sharing interesting facts and stories about Amsterdam's history, architecture and culture.
Audio commentary is available in 19 languages.
Iconic Landmarks: The route typically includes passing by renowned landmarks such as the Anne Frank House, Westerkerk, and picturesque canal houses.
Comfort and Service: Blue Boat Company – Gray Line Amsterdam is known for its professionalism and excellent service. The boats are comfortable, with panoramic windows that offer unobstructed views.
Wheelchairs are accessible by reservation.
Caters for families with a free "Kids Cruise" audio story and a booklet with every kid's ticket bought.
Food: Offers snack box option.
Cons
Crowded Periods: During peak tourist seasons or popular times of the year, these canal cruises can get quite busy, resulting in larger crowds and potentially limited space for comfortable seating or optimal viewing.
Fixed Route: A specific route may be predetermined and may not be customisable based on passenger requests. While it covers the main areas and landmarks, the canal boat may not take in specific locations or hidden gems you might have wanted to see.
Duration: 70 minutes
Cancellation: Cancel up to 24 hours in advance for a full refund.
A unique canal boat cruise that starts in the heart of Amsterdam's Red Light district that allows you to enjoy iconic sights and two free drinks in a smoke-friendly atmosphere (bring your own cannabis!).
There's also the option of smoking the hookah/shisha's onboard for an extra cost.
The boat can accommodate 22 people and has heated seating for winter. The route takes in the Herengracht and Prinsengracht canals, the Seven Bridges, the river Amstel, the Skinny Bridge and the Dancing Houses.
Pros
Unique Atmosphere: The Smoke and Lounge City Boat Cruise offers a distinct ambience, catering to individuals who enjoy a relaxed and laid-back setting focusing on smoking (bring your own cannabis!) and lounging.
Scenic Canal Views: As you cruise along Amsterdam's canals, you'll have the opportunity to enjoy the city's picturesque scenery and iconic landmarks from a unique vantage point.
Socialising and Networking: The lounge atmosphere onboard is conducive to meeting fellow passengers with similar interests. It's perfect if you're looking to socialise, network or enjoy engaging in conversations during the cruise.
Cons
Niche Appeal: The Smoke and Lounge City Boat Cruise is designed for people who enjoy smoking and a lounge-like environment.
Limited Focus: Due to the nature of the cruise, the emphasis may primarily be on the smoke and lounge aspect, which might overshadow other aspects of a traditional canal cruise experience, such as historical commentary or sightseeing information.
Not suitable for wheelchairs
Children under 18 are not allowed
Duration: 1 hour
Cancellation: Cancel up to 24 hours in advance for a full refund
This is a classic Amsterdam canal cruise in the evening. You will discover picturesque canal houses, colourful neighbourhoods and historical monuments while learning about the city with an onboard audio commentary available in 19 languages.
Pros
Experience Amsterdam from a different perspective with spectacular views and photo opportunities.
Enjoy the romance and illuminated sights of Amsterdam's UNESCO-listed canals by night.
Learn about the city's history and the Golden Age period from the onboard commentary.
Pass top Amsterdam attractions such as the Anne Frank House, Golden Bend and Westerkerk.
Access a GPS audio guide in 19 different languages (Canal Cruise)
Cons
Duration: 2 hours
Cancellation: Cancel up to 24 hours in advance for a full refund
Dining while cruising through the canals is a memorable way to see Amsterdam. The canal boat glides gently past many of the city's most famous landmarks and as you cruise, you'll be served a three-course dinner with wine.
Meal options include meat, fish and vegetarian and each meal includes freshly baked bread and a creamy pomodoro soup while dessert is a homemade tiramisu.
Multilingual commentary explains the highlights, such as the old port area, Anne Frank House, and more.
Pros
Culinary Experience: A dinner cruise with a three-course menu offers the opportunity to enjoy a delicious meal while cruising along Amsterdam's canals.
Scenic Views: As you dine, you'll have the chance to admire Amsterdam's illuminated canals and landmarks.
Relaxing and Convenient: A dinner cruise provides a relaxed and comfortable setting to enjoy your meal. Sit back, unwind and let the boat navigate the canals, eliminating the hassle of deciding where to eat.
Cons
Higher Cost: Dinner cruises are pricier than regular sightseeing cruises.
Fixed Menu Options: A pre-set three-course menu offers limited flexibility in choosing dishes or accommodating dietary preferences or restrictions.
Time Constraint: Dinner cruises often have specific departure and arrival times, meaning you must adhere to a set schedule.
Duration: 1.5 hours
Cancellation: Cancel up to 24 hours in advance for a full refund
Discover the old canals of Amsterdam while nibbling on a Dutch cheese platter and sipping a glass of wine or beer.
It's an excellent Amsterdam evening cruise to relax and see the sights. 
You'll pass the historic Canal Belt with typical canal houses, sail underneath the romantic Magere Brug, and cruise by typical water houses.
Pros
Culinary Delights: An opportunity to indulge in Dutch cheese and wine while enjoying the scenic beauty of Amsterdam's canals.
Cultural Experience: The cruise offers insights into Dutch cheese-making traditions and the history of cheese in Amsterdam.
Scenic Canal Views: Combining cheese, wine, and stunning views creates a memorable and relaxing experience.
Expert Guidance: Knowledgeable guides provide information about the cheeses, wines and sights.
Cons
Niche Appeal: The Cheese and Wine Canal Cruise caters to those who enjoy cheese and wine.
Age restriction: This tour is for 18+ only and is not suitable for families
Duration: 1.5 hours
Cancellation: Cancel up to 24 hours in advance for a full refund
Eating New York pizza while cruising around Amsterdam's canals is a fun way for families to get a perspective on this scenic UNESCO World Heritage area. There's a choice of five pizza options and two drinks (wine, beer or soft drinks) are included.
Pros
Food is included: The cruise lets you eat pizza while enjoying the picturesque views of Amsterdam's canals, combining a fun and casual dining experience with the city's scenic beauty.
Convenience and Relaxation: You can sit back, relax, and enjoy your meal without the hassle of finding a restaurant or navigating crowded streets.
Social Interaction: Sharing a pizza and drinks on a cruise can be fun and engaging, especially if you're travelling with a group or looking to meet other travellers.
Budget: It's cheaper than a three-course meal.
Cons
Limited Menu Selection: Pizza options are limited; if you have specific dietary preferences, check beforehand.
Families like this cruise: Popular with kids and can get noisy.
Duration: 1 hour
Cancellation: Cancel up to 24 hours in advance for a full refund
Drift through Amsterdam's canals on an evening canal experience with the added perk of unlimited drinks. Sit back, relax with a drink, and discover some of the city's most iconic monuments and memorials.
Cruise along the UNESCO World Heritage-listed canals, including the narrow canals of the trendy Jordaan, with its boutiques, hip eateries and cosy pubs. You'll get insider tips on hidden gems and the best bars in town.
Pros
Unlimited Drinks: This cruise offers the advantage of unlimited drinks, allowing you to indulge and enjoy a variety of beverages throughout the evening.
Scenic Canal Views: Combining the evening ambience, drinks, and scenic beauty creates a memorable experience.
Social and Lively Atmosphere: Festive party-like environment and a chance to meet new people.
Convenience and Comfort: With the drinks included, you won't have to worry about budgeting for your beverages during the cruise.
Cons
Crowded Atmosphere: Depending on the popularity of the cruise and the number of passengers, the boat may become crowded.
No food.
Duration: 1.5 hours
Cancellation: Cancel up to 24 hours in advance for a full refund
For a cool Amsterdam evening canal cruise, try a boozy canal cruise along the world-famous waterways dancing to the music of a silent disco on a private boat. Cruise the Amstel River, passing the seven bridges and hidden gems your skipper will show you.
The cruise starts and ends near the Red Light District and is a five-minute walk from Dam Square.
Pros
Exclusive and Private: The private party cruise allows you to enjoy the boat exclusively with your group, creating an intimate and personalised experience ideal for celebrations, special occasions or gathering with friends or colleagues.
Open Bar: Unlimited drinks throughout the cruise can enhance the festive atmosphere.
Customisable Experience: Private party cruises often offer the flexibility of itinerary, music and mood. You can work with the cruise operator to tailor the experience to your preferences.
Scenic Views: You can take in the beauty of the city's illuminated canals and iconic sights while enjoying the company of your group.
Silent Disco: Silent Disco set for each participant allows everyone to party and not worry about noise.
Cons
Cost: Private party cruises are more expensive than regular group or public cruises.
Age restriction: No children under 18 years
Duration: 1 hour
Cancellation: Cancel up to 24 hours in advance for a full refund
Sip local gin as you cruise the historic waterways of Amsterdam aboard an open or closed boat while learning about the UNESCO World Heritage Site of the Canal Belt. Sail along the River Amstel past the Hermitage Museum, Royal Theatre Carré and contemporary NEMO Science Museum.
Pros
Gin and Tonic Experience: The cruise allows you to sample a variety of gin and tonic combinations, offering a unique tasting experience. It's a great opportunity for gin enthusiasts. Unlimited gin and tonic, beer, wine, soft drinks and water
Scenic Canal Views: Combining the gin and tonic experience with the stunning canal views creates a memorable and enjoyable outing.
Informative Commentary: Knowledgeable guides often provide informative commentary about the city's history, architecture, and landmarks during the cruise.
Relaxed and Social Atmosphere: The cruise provides a laid-back and social environment, making it ideal for socialising and or meeting new people.
Cons
Not wheelchair friendly and unsuitable for those with mobility impairments
Duration: 1.5 hours
Cancellation: Cancel up to 24 hours in advance for a full refund
Hop on board a private vessel for a romantic evening canal cruise in Amsterdam.
Snuggle under a blanket and enjoy a refreshing glass of bubbly with local cheese and waffles while admiring the 17th-century canal houses and impressive bridges as you cruise the waterways.
Pros
Intimate and Romantic Setting: The private cruise provides a romantic atmosphere, perfect for couples celebrating a special occasion or enjoying a romantic evening together.
Scenic Nighttime Views: The cruise takes place at night, offering the opportunity to admire the illuminated canals, charming bridges and iconic landmarks of Amsterdam. The nighttime ambience adds enchantment and romance to the experience.
Customizable Experience: Private romantic cruises often offer flexibility in itinerary, decorations and additional services. This cruise includes a glass of mulled wine in winter or a small bottle of Prosecco in summer, local cheese, grapes, crackers and waffles.
Relaxation and Privacy: The private setting of the cruise allows you to relax and enjoy the company of your partner without distractions.
Cons
Higher Cost: Private romantic cruises are more expensive compared to regular group or public cruises.
Duration: 75 minutes
Cruise along the IJ river and enjoy the changing face of Amsterdam as you pass by modern buildings, such as the EYE Film Museum, while tucking into as many pancakes as you can eat.
The pancake buffet includes freshly baked natural, apple and bacon pancakes and all sorts of delights to garnish your pancakes, like cheese, ham, fruits, jams, and eggs.
Gluten-free and lactose-free options are also available.
Pros
Enjoy a 75-minute cruise on the IJ river as an alternative to a canal cruise to discover another side of Amsterdam.
All-you-can-eat traditional Dutch pancakes with Gluten-free and vegan options.
Great for kids: There's a large playroom to keep the kids entertained onboard, children aged 0-2 years ride free and the boat is accessible for strollers.
Cons
Drinks are not included.
While the boat is wheelchair accessible, the toilets are upstairs and only reachable by stairs.
Looking for more to do in the Netherlands? Check these out:
11 Amsterdam Evening Canal Cruises